Aalborg University's research portal VBN is based on Pure - a CRIS (Current Research Information System) and full text repository provided by Elsevier. Since 2003, Pure has been used for research registration at Aalborg University and is administered by the VBN Team, who has been part of the development of the system since its early beginnings (Read about the history of VBN).
Information regarding publications etc. recorded in Pure are extracted form and disseminated via a number of other systems, such as OpenAire, the Danish Open Access Indicator and others: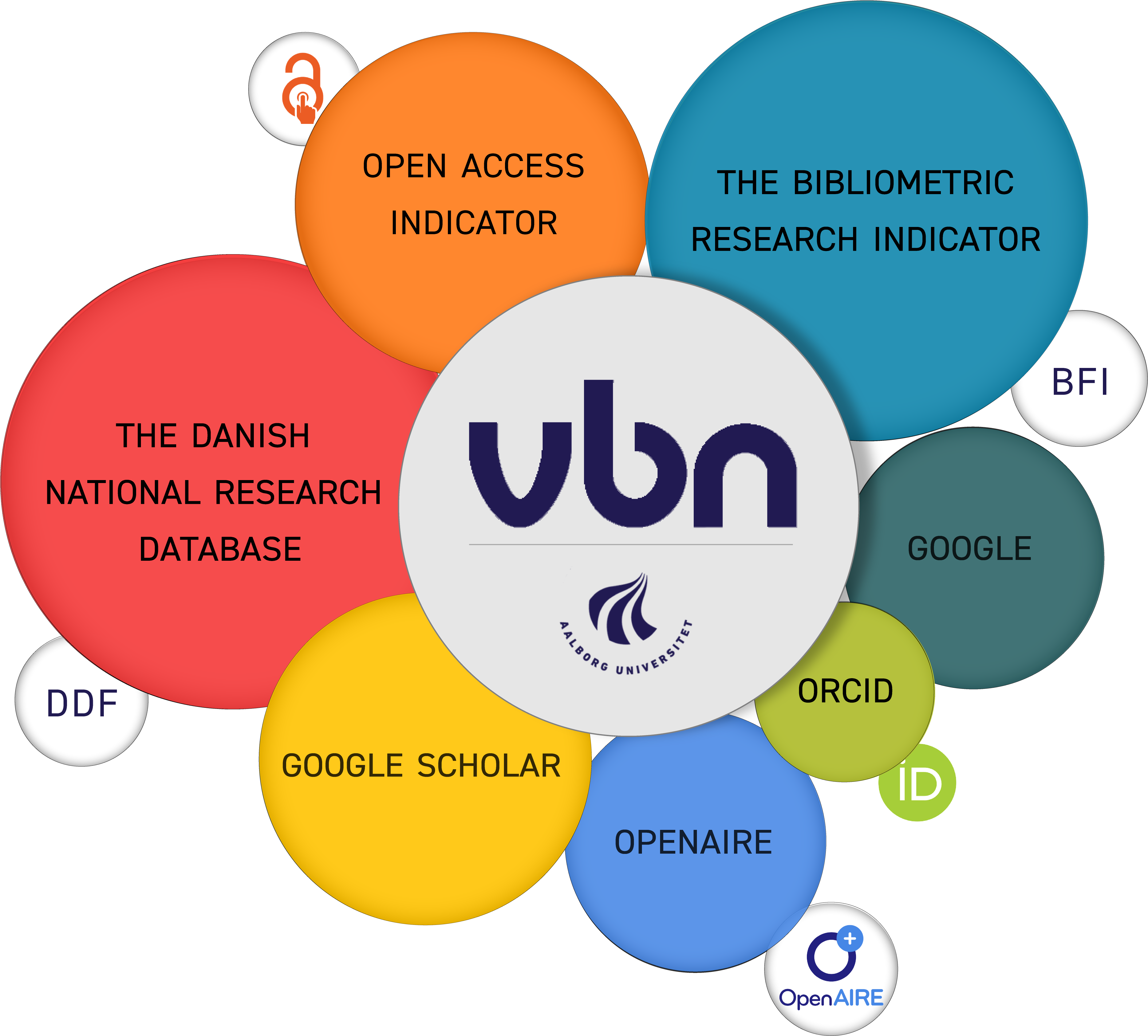 Read more about the treatment of personal data and cookies in the Danish Open Access Indicator.
Aalborg University and Elsevier
The agreement between Elsevier (system provider) and Aalborg University (user and authorized user i.e. administration of individual AAU users) states that:
Elsevier is responsible for system maintenance and development, as well as data protection.
Elsevier is under obligation not to pass on, or otherwise make use of, any content recorded in Pure.
all intellectual rights to research registered in Pure belong to the user/authorized user.
Elsevier cannot use information regarding authorized users for purposes other that those stated in the contract between AAU and Elsevier without written permission.
Elsevier will not disclose information about an authorized user:

except to the extent that it is necessary in order to fulfil the contract between AAU and Elsevier.
except in cases of reasonable necessity in connections with security-, fraud- or other legal issues.
except if Elsevier products contained in the subscription are acquired by another company.
AAU, Elsevier and the EU General Data Protection Regulation (GDPR)
Elsevier is committed to comply with EU's data protection regulation, see Elsevier and the General Data Protection Regulation. Elsevier states that "As part of our GDPR program, we [Elsevier] evaluated, and where necessary made enhancements to, our products, services and practices to ensure that we treat personal data in line with GDPR and with what the community expects of us" .
Aalborg University is obliged not to pass on confidential information regarding the institution of Aalborg University, or confidential information regarding authorized users to Elsevier. If authorized users choose to register private addresses, phone number or similar in Pure, thereby displaying the information via the VBN Research Portal, it is their own responsibility.
Information security at Aalborg University
AAU, Pure/VBN and Copyright
Research disseminated via the VBN Research Portal is publicly available. The research responsibility lies with Aalborg University and the university's authorized users.
Aalborg Unviersity and the individual researchers have the resposibility and the rights to all uploaded content in Pure. Copyright law must be complied with in each individual case (Read more at AAU Copyright).