What is an H-index?
The H-index is one of several methods for measuring the productivity and impact of a researcher. It is often used for evaluation purposes – i.e. in connection with research applications. The H-index is an illustration of the number of articles (h) that has received least h citations. For example, if an author has twelve publications registered in a single database, and every article has been cited at least twelve times, the H-index is 12. If an author has one publication that has been cited twelve times, then the H-index would be 1. The higher the H-index, the better.
Reservations regarding use of the H-index
The H-index should preferably be applied within comparable academic disciplines, and used among researchers at roughly the same stage of their careers. A senior researcher with a long publication history will almost always have a higher H-index than his/her junior research colleagues. The H-index has been criticized for being an inconsistent method for measuring the productivity and impact of a researcher, and it is recommended that you apply other methods as well, in order to show the many different aspects of research impact. Read more about how the H-index has been criticized.
Where do I measure my H-index?
The H-index is not static figure, but is recalculated every time you look it up. You can look up your H-index in the citation databases Web of Science and Scopus, as well as in Google Scholar. The calculation of the H-index is based on database coverage, and will as such usually vary from database to database.
Find your H-index in Pure
It is possible to find your H-index via your personal profile in Pure. The H-index in Pure is based on publications indexed in Scopus. In other words, it is a prerequisite that your publication list in Pure is up-to-date, that the publications are indexed in Scopus, and that they have received citations.
Log in to Pure: www.vbn.aau.dk/admin
If you have publications indexed in Scopus, it will appear under the heading "My research".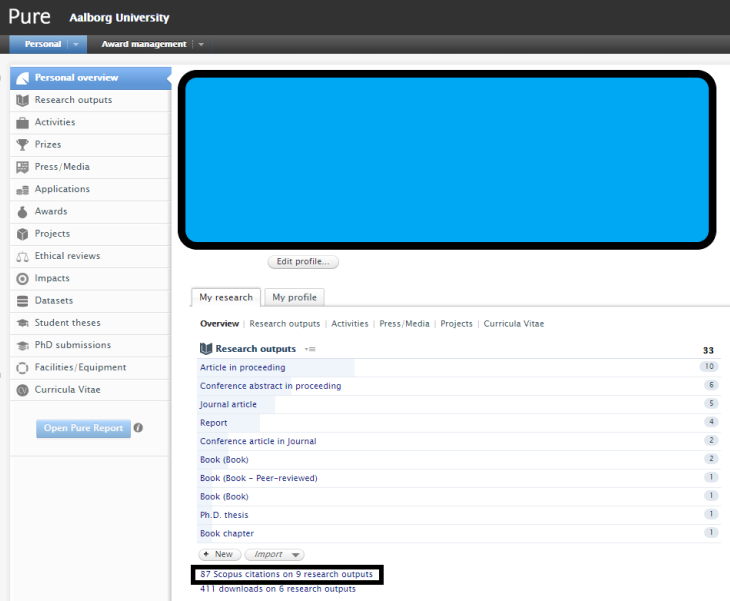 Click on the link "XX Scopus citations on XX publications". Now, you are able to view publications indexed in Scopus, and to see how many citations they have received. You will find the H-index by scrolling down to the selected publication. The example below shows that publication no. 5 has received at least 5 citations. Thus, in this case, the person's H-index is 5.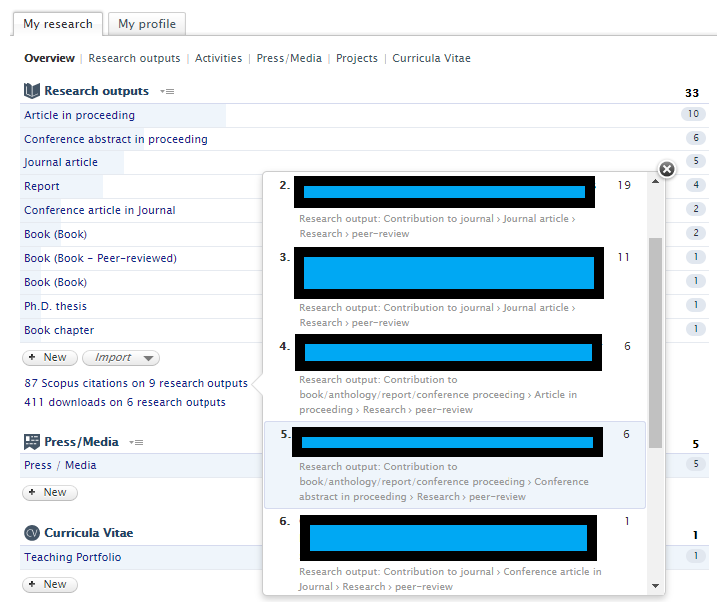 Support
The VBN team offers assistance on how to calculate an H-index in Scopus. We only calculate H-index to publications indexed in Web of Science and Google Scholar in cases where it is specified as a requirement in connection with e.g. grant applications. If it is necessary to calculate H-index for several people at the same time, we use data from Scopus, and we only use Google Scholar data if the link to each person's Google Scholar profile is connected to the same person's profile in Pure.
Contact the VBN Team: vbn@aub.aau.dk