WHAT ARE THE UN SUSTAINABLE DEVELOPMENT GOALS?
The UN Sustainable Development Goals (SDG) were agreed upon at the UN Summit in New York on 25 September 2015. The goals were adopted by all UN Member States, and came into force on 1 January 2016. The SDGs are the blueprint to achieve a better and more sustainable world as we move towards 2030. The 193 UN Member States have committed to meet the 17 SDGs and 169 targets. United Nations Sustainable Development Goals (aau.dk)

Sustainable development goals in Pure/VBN
In March 2021, the UN Sustainable Development Goals were added as a new functionality in both PURE and the VBN Portal. At present, the system supports that addition of SDGs to Personal Profiles and Publications. This means that researchers can use Pure to "tag" and highlight their research and profiles with one or more SDGs in VBN.

Example of how VBN displays SDGs
Profile view: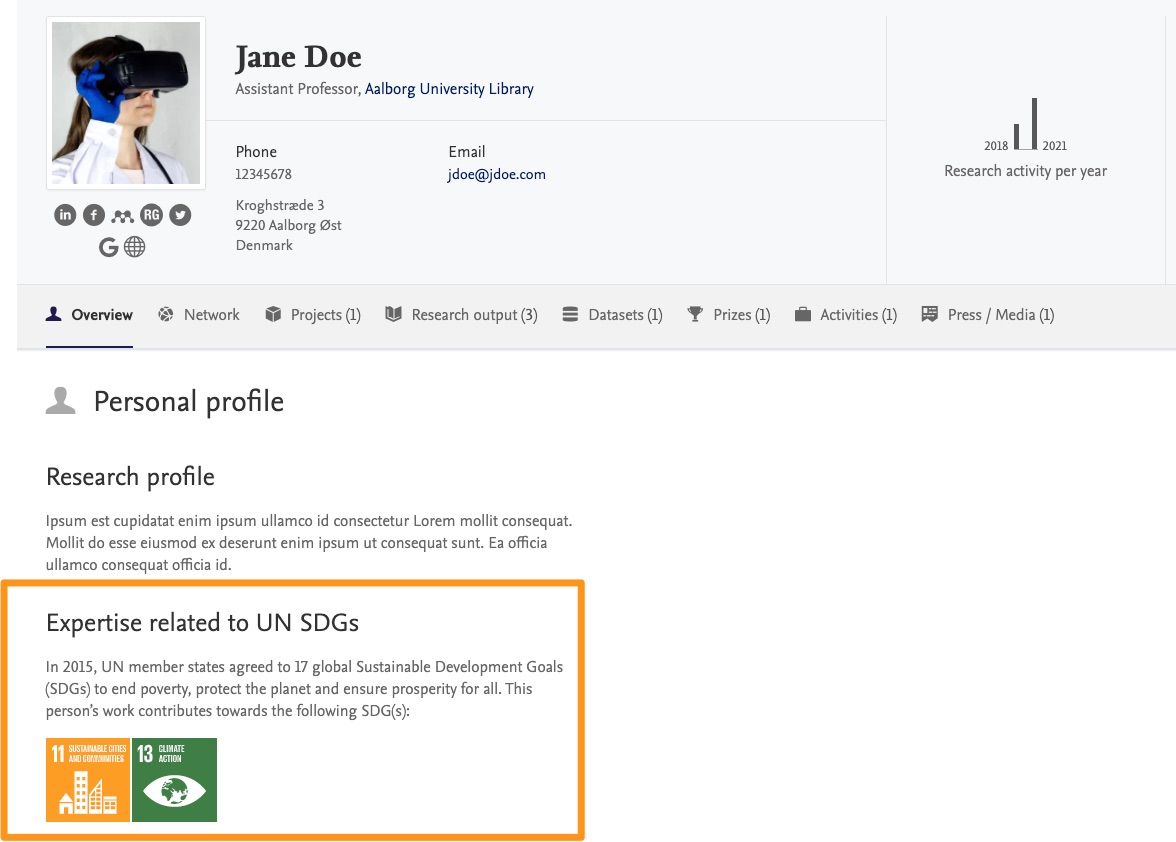 Publication view: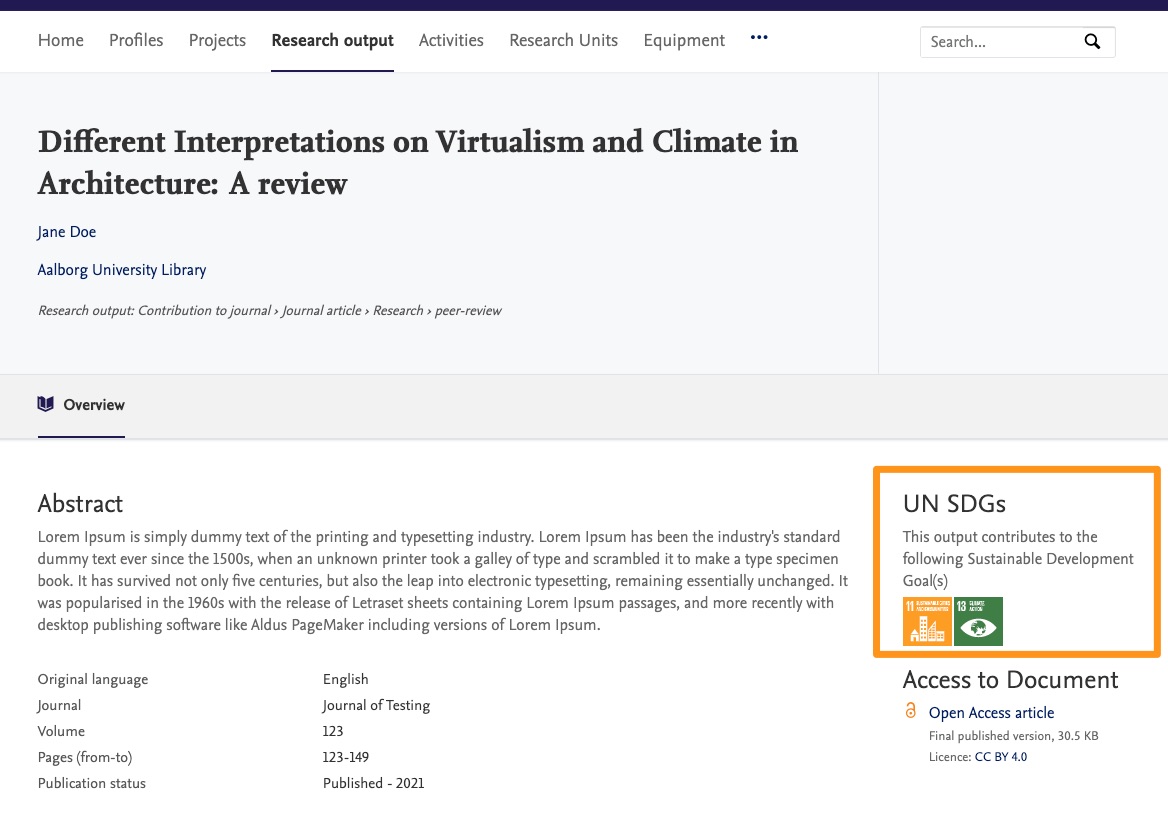 Approach
Initially, you must "tag" profiles and publications in Pure manually. In other words, it is the individual researcher, who is responsible for his or her own content. This will help to ensure high data quality and timeliness in the use of the SDGs.

How do I add the SDGs to my VBN profile?
You can add one or more SDGs to your profile in Pure manually for future display on your VBN profile. Log on to Pure at: https://vbn.aau.dk/admin and follow these three steps: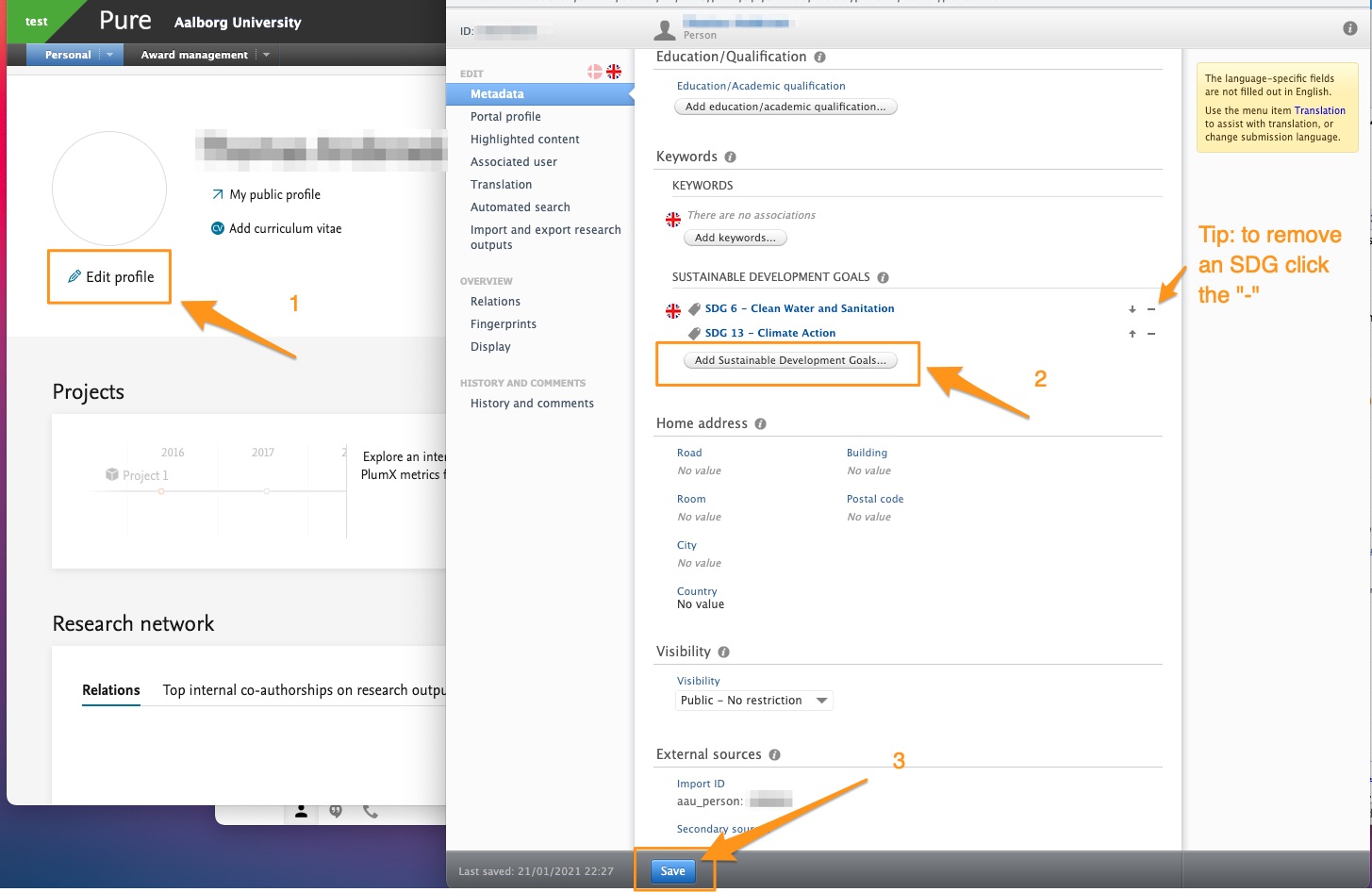 Also, check out the guide on how to get the most out of your personal Pure-profile.
How do I add the SDGs to my publications?
You can add one or more SDGs to a publication manually – e.g. in connection with publication registration.
Log on to Pure at: https://vbn.aau.dk/admin and follow these three steps:
FAQ
Why apply SDGs to Pure/VBN?
The purpose of applying the UN Sustainable Development Goals to Pure and VBN is to highlight the relevance and strengthen the dissemination of research carried out at Aalborg University. Likewise, it is a matter of supporting the University's strategic work on sustainability, ranking, and reporting.
As researcher, you can use the functionality to highlight your research and expertise, if it contributes – or potentially will contribute – to one or more of the SDGs. This will strengthen your dissemination as well as your profiling. At the same time, it will contribute to an overview of those parts of the University's research and knowledge production that relate to the SDGs, and may play a part in the challenges they are trying to solve.
The UN Sustainable Development Goals are an integral part of Aalborg University's strategic work. The university works actively and responsibly to contribute to sustainable development through education, research, and collaboration, as well as by promoting equality and social responsibility, and generally reducing the environmental impact of its daily operations.
The University's strengths are stated clearly in the AAU Sustainability Report of 2019-2020.

What determines whether my research contributes to the UN Sustainable Development Goals?
The assessment of a publication's potential contribution to the SDGs is up to you as a researcher. There is no "golden standard" that determines why and how a publication actually contributes to solving the challenges or sub-targets of the UN Sustainable Development Goals. It is difficult to measure. Seen in isolation, individual research publications will probably not solve the challenges alone, but the knowledge disseminated through a publication may translate into social impact at different levels and in different contexts. Therefore, you should consider whether the knowledge disseminated through your publication has potential impact on the SDGs.
Application of the SDGs in Pure/VBN
The long-term objective is to make it possible to report research that relates to the SDGs. Pure does contain a feature that automatically adds SDGs to publications based on different criteria. By means of this method, Pure will try to identify AAU publications that contribute to the various SDGs, and then "tag" each publication automatically with one or more SDGs. However, the implementation of this method would result in tagging all publications regardless of age and relevance, which is the main reason why the feature is not activated at present.